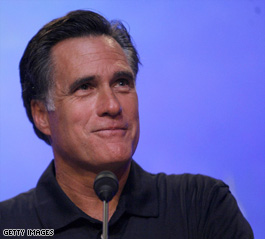 Former Massachusetts Governor Mitt Romney.
(CNN)–GOP presidential hopeful Mitt Romney said Sunday's debate between the Democratic presidential candidates was not much of a debate.
"Today's Democrat presidential candidates debate can be best summed up as bumbling gang tackle on one Democrat with almost no experience but lots of wrong ideas by several Democrats with a long history of experience pushing the very same, old, wrong ideas," he said in a release from his campaign.
At the debate Sunday in Des Moines, Democratic presidential hopeful Sen. Barack Obama worked to counter suggestions from his fellow competitors that he is too inexperienced for the job.
- CNN Political Desk Editor Jamie Crawford