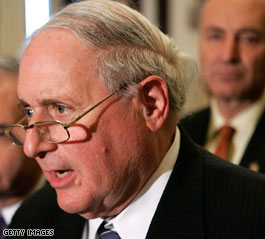 Levin recently visited Iraq.
WASHINGTON (CNN) - The chairman of the Senate Armed Services Committee is calling for a new government in Iraq, saying his trip there last week convinced him that Prime Minister Nuri Al-Maliki is too sectarian and cannot create a stable Iraq.
Sen. Carl Levin, D-Michigan, was blunt in a Monday conference call with reporters. "I hope the Iraqi Assembly, when it reconvenes in two weeks will vote the Maliki government out of office," he said.
Levin credited American troops with a visible decrease in violence in Iraq. But the Armed Services chairman insisted military force alone cannot stabilize the country. Levin said Iraq could erupt into more internal bloodshed, with its army dividing against itself, unless leaders in Baghdad reach tough political compromise. And he insisted Maliki can't do that.
"The Maliki government is non-functional," the Michigan Democrat said, "and cannot produce a political settlement because it is too beholden to religious and sectarian leaders."
Levin visited Iraq with the ranking Republican on the committee, Sen. John Warner, R-Virginia. The two men issued a more nuanced joint statement together, saying that current Iraqi leaders may be facing their "last chance" and that if they fail the government and people need to judge "what actions should be taken…to form a true unity government."
In contrast, Levin's comments were among the most directly critical of the Maliki government from Washington leaders. The Iraqi prime minister, a Shia leader, is struggling for support as Sunnis and others have walked out of his coalition in past months.
President Bush has sidestepped direct criticism of Maliki, but recently his tone has been less confident. Last November, Mr. Bush declared Maliki, "the right guy for Iraq." Two months ago, when asked if he still felt that way, the president instead responded, "I believe that he understands that there needs to be serious reconciliation and they need to get the law passed."
Congress and the White House are preparing for a fiery Iraq debate in September as progress reports are finalized.
- CNN Radio's Lisa Goddard