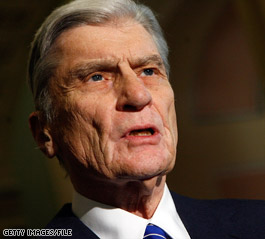 Warner is back from a recent trip to Iraq.
WASHINGTON (CNN) - One of the Senate's top Republicans has called on President Bush to start bringing U.S. troops home from Iraq by Christmas, telling reporters Thursday that a pullout was needed to spur Iraqi leaders to action.
Sen. John Warner, the influential former chairman of the Senate Armed Services Committee, said he has recommended that Bush announce the beginning of a U.S. withdrawal in mid-September, after a report from the top U.S. officials in Iraq.