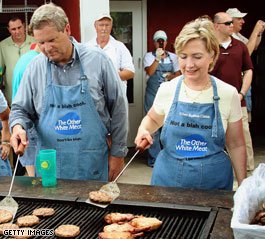 Clinton, with former Iowa Gov. Tom Vilsack, at the Iowa State Fair last week.
DES MOINES, Iowa (CNN) - Whether or not the presidential campaigns will openly admit it, the past couple of weeks in Iowa have been tougher than usual.
In the past three weeks, the Hawkeye State saw the first round of Iowa debates, the Republican straw poll, an AFL-CIO Democratic forum and the Iowa State Fair. The fair, which ran over the course of 10 days, was neutral territory for the Republican and Democratic presidential candidates as they toured the grounds shaking hands and indulging in such delicacies as fried Twinkies or pork chops on sticks.
"These debates here in Des Moines at the same time as the state fair roughly intensifies the appearances of all these candidates," said Dennis Goldford, a professor of politics at Drake University in Des Moines. "That may be perhaps coincidentally a little out of the ordinary."
On the days preceding these events, campaigns were no doubt prepping from sunrise to well after sunset. So it's time for a break, right? Not necessarily, say the staffers. Ask anyone involved with an Iowa presidential campaign and you'll hear one very similar response: there's never time to rest in the realm of a presidential campaign.
"It was obviously a very busy week, but we're always busy here," said Dan Leistikow, Iowa communications director for former Democratic Sen. John Edwards' campaign. "People are still working very hard."
Jim Kersten, a co-chair for Republican Rudy Giuliani's Iowa campaign, said, "We are just working hard, like all the campaigns in Iowa."
And they're probably right - campaigns really can't take vacation time. But does the chaos at least return to some kind of normalcy now that most candidates have left the state for a little while?
"There is no normal on a campaign," said Leistikow.
"Normalcy for us is lightning's pace," said Mark Daley, the Iowa communications director for Democratic Sen. Hillary Clinton's campaign. "We work as hard as we can. It's late to bed, early to rise."
Josh Earnest, Democratic Sen. Barack Obama's Iowa communications director, said, "If your definition of normal is having 29 offices all across the state, staffed 12 to 14 hours a day...then I guess it's going back to some measure of normalcy."
Chuck Larsen, a senior adviser to Republican Sen. John McCain's Iowa organization, said, "Iowans will really start to focus on the race in September, so now is where the rubber hits the road."
But as reluctant as most campaigns are to admit it, a little "R and R" is not unheard of, even in the perpetual motion of Iowa caucus politics.
Republican Sen. Sam Brownback, who finished third in the GOP straw poll, took the week off following the state fair, and his Iowa communications director John Rankin said, "The staff workload eases a bit when he doesn't have public events."
Democratic Sen. Joe Biden, one of the last remaining Democrats in the state following Sunday's debate, admitted he'll put his feet up for a bit, though his Iowa staff contends they themselves will not.
"I'm home Saturday," Biden said with a grin.
And while Biden is home, Obama's entire Iowa staff will be at an out-of-town retreat. Earnest said the purpose of the weekend retreat is to make sure they're all "on the same page for the fall."
Clinton's Iowa campaign will also let some of their staff relax, sans any type of statewide retreat. Daley told CNN, "I'm sure we have some people off but we have a ton of surrogate events this weekend as well."
Eric Woolson, former Republican Gov. Mike Huckabee's Iowa campaign director, said the weeks leading up the straw poll were as busy as they've ever been. But now, even in the midst of trying to capitalize on Huckabee's surprise second place finish at the straw poll, they've been able to enjoy some time to re-group.
"We had an opportunity to catch our breath," said Woolson. "It's really a chance to step back and enjoy the results of that hard work."
Woolson said most volunteers and staffers work all the time, but with a smile he added, "I took a few days off just because I'm old and tired and needed a few days off."
The campaign of former Republican Gov. Mitt Romney, fresh off their first place finish at the straw poll, also took time off - albeit not much.
"[We] kind of decompressed and took it all in," said Tim Albrecht, Romney's Iowa press secretary. "That's important because we had worked so hard and achieved such an overwhelming victory that we were able to take a break, take a rest on that Sunday."
Former Republican Sen. Fred Thompson did not officially participate in the straw poll but did, however, make a stop at the state fair. His "Testing the Waters" committee declined to comment on what the following week has been like.
Leistikow at the Edwards' campaign, while maintaining their offices have "remained open" through it all, said that "staff members have taken different days off."
Taylor West, Iowa press secretary for Sen. Chris Dodd's campaign, said, "You've got to give folks a little bit of time to decompress, but obviously we try to stagger it out so that we've always got plenty of people crankin' away."
And perhaps it's best to get that decompression time in while they still can.
"This is the 'pre-campaign,'" Professor Goldford cautioned. "We'll see the real intensification coming this fall because we still have a good four months before those caucuses."
- CNN Iowa Producer Chris Welch