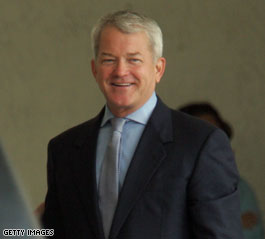 Foley abruptly resigned his seat last Fall.
WASHINGTON (CNN) - Former Rep. Mark Foley, the Florida Republican who resigned his seat last fall after it was revealed he sent sexually explicit e-mails to underage House pages, is unlikely to face criminal charges for his behavior, Scripps Howard News Service reports.
The news agency reports federal investigators have been unable to gather enough evidence to prove Foley, 52, intended to "seduce, solicit, lure, entice, or attempt to seduce a child," with his inappropriate contacts.
While there is still a chance new evidence could come to light before the investigation officially wraps up "in the next several days," according to the report. Once the investigation is complete it will bet turned over to Pensacola prosecutors - the location from where Foley sent his inappropriate e-mails.
Foley abruptly resigned from Congress only weeks before the 2006 midterm elections after ABC News reported on a series of inappropriate e-mails and instant messages to teenage House pages.
- CNN Ticker Producer Alexander Mooney