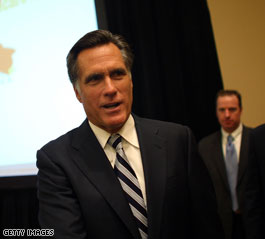 Romney unveiled his healthcare plan Friday.
WASHINGTON (CNN) - He was a chief architect of the universal healthcare plan in Massachusetts, but White House hopeful Mitt Romney said Friday as president he would put in place a policy that allows each state to dictate its own healthcare coverage.
"The insurance market has different mandates, so what works in Massachusetts probably won't work in Texas, it's going to need a different plan," Romney said as he laid out his healthcare proposal during a power point presentation before the Florida Medical Association.
The plan seeks to provide states with federal incentives to "deregulate and reform" their health insurance markets and tax breaks to encourage people to buy private insurance.
Romney also said the Medicaid program for low income Americans should be changed to provide states with block grants for creating their own insurance programs - unhindered by federal mandates.
In a statement released ahead of Romney's speech, the campaign characterized the proposal as a "federalist approach."
"His reforms will give states greater flexibility," the campaign said. "But Governor Romney's conservative reforms also make the states true partners in the effort to expand access to affordable, quality health insurance."
Romney immediately got attacked from his Republican and Democratic opponents.
"Mitt Romney's legacy is the creation of a multi-billion dollar government health bureaucracy that punishes employers and insists middle income individuals either purchase health insurance or pay for their own health care," Dr. Scott Atlas, a health care advisor to former New York City Republican Mayor Rudy Giuliani, said in a statement. "The former is a mandate, the latter is a tax, and neither one is free-market."
Democratic presidential candidate John Edwards attacked the proposal while campaigning in New Hampshire Friday, saying Romney should "come here to New Hampshire and explain to the people I just met with why universal health care was good for the state of Massachusetts but it's not good for the people of New Hampshire."
Related: Romney looks to states to expand health care coverage
- CNN Ticker Producer Alexander Mooney