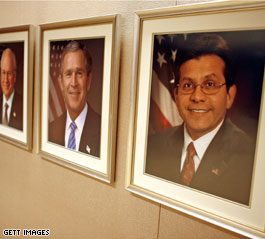 Who should succeed Gonzales as attorney general? Roland Martin has made his pick.
(CNN) - Now that Alberto Gonzales has finally jumped ship, President George W. Bush is in a tough position.
He needs to fight back charges from Democrats that the Justice Department has no credibility, and of course, he must also give Republicans some hope that he has someone in mind who they can rally behind.
One name that would be a win-win: Larry Thompson.
Thompson served as deputy attorney general of the United States from January 2001 until August 2003, and was widely seen as a comforting presence while a volatile John Ashcroft was sitting in the top spot. He left for a big corporate gig as PepsiCo's senior vice president and general counsel.
Not only is he seen as a moderate; Thompson was also widely respected when he was the top U.S. attorney for the northern District of Georgia. Democrats and Republicans both like him, and that's a good thing today.
Another plus? He's African-American.
Sure, people should be appointed based on qualifications, but he has that. His race is an added element.
First, Thompson would be the first African-American to serve as attorney general, and Bush has already had a couple of firsts (Colin Powell and Condoleezza Rice as Secretary of State). Second, Bush would get someone who he already knows, and can trust to get through what some are already calling a tough confirmation hearing.
Thompson may have been making the big bucks in the private sector, but he surely wouldn't pass up the chance at making history, and helping a president in desperate need of some good news.
- CNN contributor Roland Martin