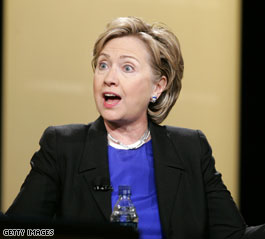 Clinton won the backing of a major union Tuesday.
(CNN) – Presidential hopeful Hillary Clinton won the support of the United Transportation Union Tuesday, the first national labor group to endorse a candidate in the 2008 race for the White House.
"It is a high honor and a distinct privilege to be the first labor union in making this endorsement," UTU International President Paul Thompson said in a written statement. "The UTU has a long history of picking winners early. Hillary will be a president that America's working families can count on."
"Time and again, as a United States senator, she has stood with us," Thompson added.
Calling itself "the leader among transportation labor unions," the UTU claims to represent 125,000 active and retired railroad and transit workers. It is an affiliate of the AFL-CIO.
According to the Associated Press, the UTU is also one of the top labor unions to donate to political candidates. It contributed $1.3 million to candidates in the 2004 federal elections, with 84 percent of the money going to Democrats.
All eight Democratic candidates have heavily sought the AFL-CIO's support, and participated in the labor federation's candidate forum earlier this month. Following the forum, the AFL-CIO decided not to make an official endorsement, instead allowing the 55 member unions to pick their own candidates.
"I am honored to receive the support of the United Transportation Union," Clinton responded in a press release Tuesday. "America's workers have been invisible to this administration, and it's time they had an advocate in the White House."
- CNN's Mark Norman and Alexander Mooney