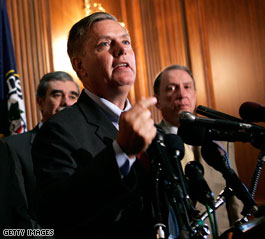 Graham officially supports Sen. McCain for the GOP nomination.
Columbia, South Carolina (CNN) - Senator Lindsey Graham of South Carolina told a group of local Republicans here on Monday night who he believes will win the Democratic presidential nomination.
"Whoever wins this [GOP] nomination is going to get my full support," Graham told a meeting of the Richland County Republican Party. "You know why? You know who we're going to be running against? Hillary Clinton."
Graham, a member of the Air Force Reserves who just returned from a stint serving in Iraq, also offered a vigorous defense of President Bush's Iraq strategy to loud applause, declaring that the troop buildup is working and that the President's policies are the reason the United States has not had a terrorist attack since September 11th.
The senator made one of the boldest statements yet to come out of the debate in Washington over whether Iraqi Prime Minister Nuri Al-Maliki is competent enough to bring rival political factions together in Baghdad.
"I predict that in a matter of weeks, not months or years, there will be a political breakthrough in Baghdad," Graham said. "The politicians will find a way to bring their country together. And you want to know why? Because the Iraqi people are sick and tired of the killing and the dying, and they're putting pressure on the politicians."
But he differed with Bush over the president's recent comparison of Iraq to Vietnam.
"This is not Vietnam," Graham said. "This is World War Three."
The crowd of about 75 people was overwhelmingly friendly to Graham, but there were several Republicans critical of Graham for his support of this summer's comprehensive immigration reform bill, which died in the Senate in June.
The senator's defense of the bill has irked many conservative activists in this state.
At one point during Monday's speech, when Graham tried to explain why he believes there are an estimated 12 million illegal immigrants in the United States, a critic in the back of the small room interrupted several times, yelling: "Just enforce the law!"
There was also one man wearing a "Mitt '08" sticker–though he was not officially affiliated with Mitt Romney's presidential campaign–distributing brochures blasting Graham's support of the immigration bill.
- CNN South Carolina Producer Peter Hamby