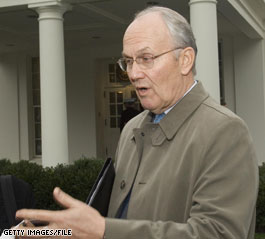 Sen. Larry Craig, R-Idaho.
(CNN) - Sen. Larry Craig, R-Idaho, was fined earlier this month for a misdemeanor disorderly conduct charge stemming from his arrest in June at the Minneapolis-St. Paul International Airport, according to Minnesota criminal records.
While the criminal records did not provide details of why Craig was arrested, Roll Call newspaper reported Monday that he was apprehended by a plainclothes police officer investigating complaints of lewd behavior in an airport men's room.
In a statement released Monday evening, Craig denied any inappropriate conduct and said he now regrets his guilty plea.
"At the time of this incident, I complained to the police that they were misconstruing my actions. I was not involved in any inappropriate conduct," he said. "I should have had the advice of counsel in resolving this matter. In hindsight, I should not have pled guilty. I was trying to handle this matter myself quickly and expeditiously."