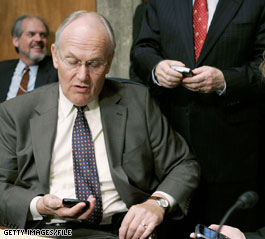 No matter what happens, it's likely Craig's Senate will likely stay red.
WASHINGTON (CNN) - Senator Larry Craig is facing some major political problems today, now that the word is out that he pleaded guilty to a misdemeanor disorderly conduct charge stemming from his arrest at a men's bathroom at the Minneapolis-Saint Paul International Airport.
Whether the Republican from Idaho can politically survive this setback is not known at this time, but one thing seems certain: his seat will most likely stay in GOP hands. Craig is up for re-election next year. He's finishing up his third term in the Senate after serving ten years in the House of Representatives. Craig won 65% of the vote in his 2002 re-election.
There was speculation before this latest controversy that Craig would retire after finishing up his third term. The senator was expected to make a decision this autumn on whether he would run for re-election. According to FEC numbers, Craig has $549,125 campaign cash on hand, which goes a long way in a state like Idaho.
But if Craig were to step down, Idaho's Republican governor, Butch Otter, would name an interim replacement to serve until next year's election. Otter would most certainly name a Republican, and that person would instantly have a major edge in the 2008 contest.
And here's why: Idaho is a very red state. As mentioned, the governor is a Republican, as is Craig and the other U.S. senator, Mike Crapo. Both U.S. representatives are Republican, and President Bush cruised to victory in Idaho in 2004, winning 69% of the vote.
A number of Idaho Republicans are said to be interested in running for Craig's seat, including Rep. Mike Simpson. The leading Democratic challenger at this point appears to be former Congressman Larry LaRocco, who's already actively campaigning, but has only raised around $80,000.
Related: Senator says he regrets guilty plea after restroom arrest
- CNN Deputy Political Director Paul Steinhauser