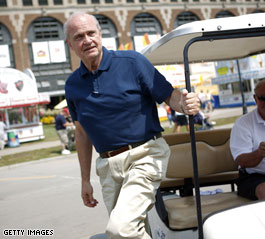 Thompson, in Iowa earlier this month, is expected to get into the presidential race soon.
(CNN) – An influential New Hampshire newspaper Wednesday morning put new pressure on likely GOP presidential candidate Fred Thompson to take part in next week's debate, warning that "avoiding it costs him stature, which is his chief political commodity right now."
The Union Leader editorial page, closely watched in the state and by conservative activists, said Thompson "has flirted from afar with Republican voters for long enough. It's time for him to accept a date. And there is no better first date than the New Hampshire Republican Party's presidential debate."
The state party is sponsoring its first debate on September 5 at the University of New Hampshire in Durham.
Thompson has indicated he is close to formally entering the race, but hasn't yet said exactly when he'll officially announce. The Union Leader said that if he announces before the debate but skips the event, "a no-show will be counted here as a snub."
The Leader's editorial also said that if the former Tennessee senator still hasn't announced "it will appear to some as if he timed the announcement just to avoid the New Hampshire debate."
There was no immediate response to the editorial from Thompson.
New Hampshire Republican Party Executive Director Stephen DeMaura told CNN the party has "been speaking with (Thompson representatives) on an ongoing basis." He said they were first told Thompson would enter the race September 4 and take part. He said they were later told he wouldn't jump in until September 6. DeMaura said while nothing is set yet, he believes that, "in the end, they're probably going to get in (the debate)".
DeMaura also indicated that if Thompson delays the announcement or doesn't take part in the debate "some of the other campaigns are ready to strike back at him."
He said Thompson would run the risk "of showing he doesn't care about retail politics and only cares about campaigning in major media markets" if he skips the debate.
- CNN Political Desk Managing Editor Steve Brusk