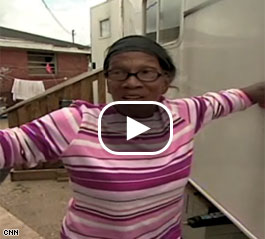 Watch CNN's Soledad O'Brien report on the New Orleans recovery effort.
WASHINGTON (CNN) - Two years ago Wednesday, Hurricane Katrina slammed into New Orleans and the Gulf Coast. President Bush arrived in the Crescent City Tuesday night, and plans to talk about federal recovery efforts later Wednesday in the still-devastated region.
It was September 15, 2005, just over two weeks after the hurricane struck, when President Bush talked to the nation from Jackson Square in New Orleans.
Bush said then, "Throughout the area hit by the hurricane, we will do what it takes. We will stay as long as it takes to help citizens rebuild their communities and their lives. And all who question the future of the Crescent City need to know there is no way to imagine America without New Orleans, and this great city will rise again."
But two years later, according to a new CNN-Opinion Research Corporation Poll, 55 percent of Americans we questioned don't think New Orleans will every completely recover from the storm. 44 percent say it will.
While the federal governments committed more than $110 billion in grants and loans to the devastated region, the money's been slow in getting to the people who need it the most. That's something Bush acknowledged at a news conference last August, just before the first anniversary of Katrina, when he told reporters, "It's going to take a while to recover. This was a huge storm." (Related video: Former FEMA head Michael Brown says he's still angry)
More than half of those we questioned feel the federal government's not doing enough to help rebuild areas hit hard by Katrina. 52 percent believe the government has not done enough. Meanwhile 33 percent feel that Washington has done enough and only 10 percent say the federal government's done too much. The poll, conducted nationally August 6-8, carries a margin of effort of plus or minus 4.5 percentage points.
The White House says it is living up to its responsibility, but the federal government's response to Katrina damaged Mr. Bush politically, giving Democrats running for the White House plenty of ammunition.
"The work is not getting done. The money is not getting to the ground," former Sen. John Edwards, D-North Carolina, said Monday night at a recovery summit in New Orleans moderated by CNN's Soledad O'Brien.
Sen. Hillary Clinton, D-New York, at the same summit, said, "I pledge to you this: If we don't get done what you deserve to have done by the time when I'm President, this will be one of my highest priorities."
- CNN Deputy Political Director Paul Steinhauser