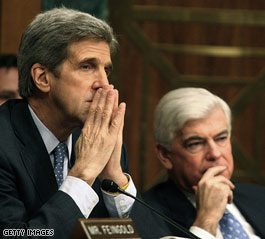 Will an endorsement from a firefighters union help Chris Dodd like it helped John Kerry?
IOWA CITY, Iowa (CNN) - Democratic presidential candidate Chris Dodd called Thursday one of the best days he's had on the trail so far. Of course, for a man who's polling as low as he is, "best" is relative.
The senator from Connecticut stood on stage for what could eventually prove to be a helpful photo op. Holding his hand under the lights was the man often credited with lifting John Kerry's 2004 presidential bid to a new level. That man is Harold Schaitberger.
Schaitberger is the president of the International Association of Fire Fighters, a union representing 281,000 full-time professional fire fighters.
Wednesday he announced the IAFF is throwing all of its support behind long-shot candidate Chris Dodd.
"I have committed myself to this campaign...until we get to the White House," Schaitberger said.
"One of the things I admire about fire fighters," Dodd said, "[is] they don't sit around and just say 'who's winning?' They ask themselves 'who should win?'"
And according to today's polls, Dodd certainly isn't winning. But even though he argued that "poll numbers in August mean nothing," you can't ignore the fact that he's consistently coming in at around 1 percent.
Now the question is, could this endorsement change anything?
Let's rewind four years. Sen. John Kerry, then seen as a long-shot for the Democratic presidential nominee, was given this very same endorsement.
"I talked with Sen. Kerry this morning," Dodd told a group of reporters.
"People had written John off–they said his numbers were too low. Harold Schaitberger and fire fighters said 'We don't care about numbers. We think John Kerry will be the best candidate for this party and make the best president.'"
Even Kerry told CNN in a statement, "There's no doubt in my mind that when they endorsed my campaign early when I was lagging in the polls, during some real bumps in the road they helped keep my campaign going and helped spread our message."
Kerry continued, "I still keep a picture at home of Harold Schaitberger...
standing by my side the night we won the New Hampshire primary."
But is it at all accurate to say that Chris Dodd is 2008's John Kerry? That depends. The political landscape was quite different.
For one, Kerry's poll numbers four years ago were higher than Dodd's are today, both surveys taken prior to the IAFF endorsement. A CNN/USA Today/Gallup poll from August 4-6, 2003 showed Kerry at 12 percent–fourth place among the Democratic field at the time. That's about 11 points more than Dodd's now.
"Kerry was also helped by the sense of 'Where else are we going to go?'"
said Dennis Goldford, a professor of Politics at Drake University in Des Moines. "Edwards seems too young, and Dean imploded...So in a way Kerry was helped by the process of elimination. I don't know if Dodd has that advantage in this particular year."
Regardless, Thursday was a good day for Dodd, even though he contends one other day also stands out in his mind.
"The day I convinced my wife that I ought to [run for president] was a pretty good day," he said with a smile
-CNN Iowa Producer Chris Welch