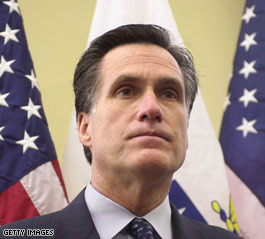 Mitt Romney in 2004 at a press conference regarding same-sex marriage in Massachusetts
DES MOINES, Iowa (CNN) - Republican presidential candidate Mitt Romney, who faced the issue as governor of Massachusetts, criticized an Iowa district court ruling Thursday that said same-sex couples have the right to marry.
A judge in Polk County, Iowa, said gay couples must be allowed to get married because of the state constitution's guarantee of equal treatment.  The judge also struck a state law that banned same-sex marriages and said valid marriage is only between a male and a female.  The ruling came in response to a lawsuit by six gay couples seeking permission to marry, and will now go to the Iowa Supreme Court.
Romney, leading in the Iowa polls after courting conservative support, was the first candidate to react to the decision.  In a statement, he said, "The ruling is Iowa today is another example of an activist court and unelected judges trying to define marriage and disregard the will of the people as expressed through Iowa's Defense of Marriage Act.  This once again highlights the need for a Federal Marriage Amendment to protect the traditional definition of marriage as between one man and one woman."
Romney, who was governor when the Massachusetts Supreme Court ruled in favor of same-sex marriages in 2004, did approve certificates allowing gay couples to marry.  But he worked with other opponents in an effort to overturn the state law, and has pushed for a national ban.
–CNN Political Desk Managing Editor Steve Brusk