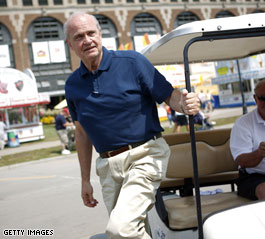 Sources say Thompson will get in the race sometime next week.
(CNN) - When will Fred Thompson officially jump into the race for the White House? That's the question all of us would like to know. Well, here's what we're learning.
A handful of sources working on Thompson's formal entry into the race for the GOP presidential nomination tell CNN to expect the former Tennessee senator and actor to make his announcement on the web, some time as early as the middle of next week. They say Thompson will travel and campaign in key primary states following the Internet announcement.
The sources tell CNN that the web announcement will not take place before next Wednesday's GOP presidential debate in New Hampshire. They say they don't expect Thompson to attend that debate. (Related: New Hampshire paper: Thompson better go to debate)
On June 1st, Thompson created a fundraising committee that allowed him to begin raising money for his probable presidential campaign.