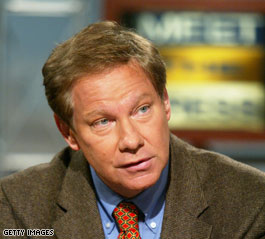 Rep. Tom Davis will run for John Warner's Senate seat, according to a CNN source
WASHINGTON (CNN) - Rep. Tom Davis appears to be the first person to throw his hat into the ring in the battle to succeed retiring Sen. John Warner of Virginia. A congressional source close to Davis told CNN Radio's Lisa Goddard that, "Tom's running. He didn't want to say more today because it's the senator's day."
The source reached out to CNN just one hour after Warner announced that he won't run for re-election in 2008. Davis, a moderate Republican from Northern Virginia, has long eyed succeeding Warner. But Davis could most likely face serious competition from a more conservative candidate. One possibility is former Gov. Jim Gilmore, who gave up his bid for the White House last month.
On the Democratic side, party leaders are hoping former Gov. Mark Warner (no relation) will run. Warner left office in 2005 with very high favorable ratings. He also considered running for president, but never officially jumped into the race. Warner would be considered a very strong candidate, and could have a good chance at taking the seat away from the Republicans.
According to sources close to CNN, Gov. Warner is expected to make a decision about entering the race within a week.
The Democrats currently hold a slim 51 to 49 majority in the Senate. But 22 of the 34 seats up next year are held by Republicans. Warner becomes the second GOP senator to retire rather than run for re-election in 2008. Sen. Wayne Allard of Colorado is also retiring.
Earlier today, Rep. Davis put out a statement regarding his colleague's retirement, saying, "Senator Warner is a giant. For decades, he's been everything a public servant should be: thoughtful, honorable, persistent, courageous, and generous. He's been that rare politician who cares more about getting things done than getting credit. He's made Virginia a better place. He's made our nation more secure. He'll go down in history as one of the greats – and I'm sure there are several chapters yet to be written. Today's a day to celebrate and honor John Warner. He's more than earned a victory lap. An announcement from me on my future plans can wait for another day."
- CNN's Lisa Goddard and Paul Steinhauser