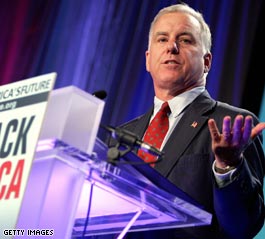 DNC Chairman Howard Dean is trying to maintain control of the primary calendar
WASHINGTON (CNN) - The chairman of the Democratic National Committee has sent a message to the field of 2008 Democratic presidential candidates: follow the rules.
In a letter sent to candidates Friday, Gov. Howard Dean called on his party's White House hopefuls to support a DNC decision to strip the state of Florida of its say in the nomination process if it proceeds with plans to hold its presidential primary on January 29, eight days earlier than party rules allow.
The DNC's Rules and Bylaws Committee ruled in a meeting in Washington last Saturday that Florida Democrats would lose all of their delegates to the 2008 Democratic National Convention in Denver unless they modified their primary plans within 30 days.
"My goal as chairman, and our objective as a party, is to structure a nominating process that adheres to rules that are clear, straightforward and published. The vast majority of states have complied with these rules," wrote Dean. "As leader of the Democratic Party, I strongly urge you to adhere to the 2008 Delegate Selection Rules."
Dean went on to describe Florida's current plan for a January 29 primary and defended the committee's need to maintain the party's presidential nomination rules. I strongly urge you to do your part and support the actions of the Rules and Bylaws Committee. The RBC did one thing on Saturday: enforce the Party's rules," he said in closing.
The former Vermont governor and 2004 Democratic presidential hopeful stopped short of calling on the candidates to boycott the Florida primary outright, but the letter nonetheless sends a warning shot to other states, such as Michigan, that are also likely to violate party rules by scheduling an early nomination contest. The Michigan state legislature passed a bill this week moving that state's contests to January 15.
Also on Friday, the four states allowed by the DNC to hold their nominating contests before February 5 - Iowa, New Hampshire, Nevada, and South Carolina - asked the Democratic field to sign a pledge not to campaign or compete in Florida if it violates party rules.  Sens. Joe Biden of Delaware and Chris Dodd of Connecticut and New Mexico Gov. Bill Richardson have each signed the pledge as of Friday afternoon.