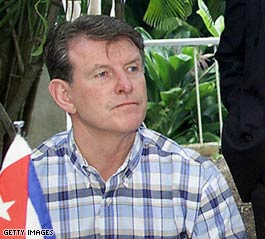 Idaho Gov. C.L. "Butch" Otter would have to name a replacement for Sen. Craig
WASHINGTON (CNN) - Idaho's Republican governor, C.L. "Butch" Otter, would name an interim replacement to serve until next year's election. Otter would most certainly name a Republican, and that person would most likely have a major edge in the 2008 contest.
And here's why: Idaho is a very red state. As mentioned, the governor is a Republican, as is Craig and the other U.S. senator, Mike Crapo. Both U.S. representatives are Republican, and President Bush cruised to victory in Idaho in 2004, winning 69% of the vote.
A number of Idaho Republicans are said to be interested in running for Craig's seat, including Rep. Mike Simpson. Current Lt. Gov. James Risch and former Governor and Interior Secretary Dirk Kempthorne are other possibilities.
The leading Democratic challenger at this point appears to be former Congressman Larry LaRocco, who's already actively campaigning, but has only raised around $80,000.
Related: Craig likely to quit soon
–CNN Deputy Political Director Paul Steinhauser