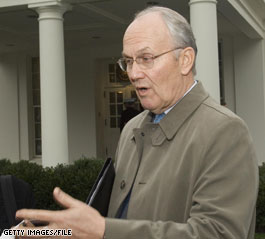 Sen. Larry Craig, R-Idaho.
(CNN)–Senator Larry Craig is hiring some big guns from the legal world, including Michael Vick's lawyer, to represent him in his upcoming legal proceedings.Craig said he has retained Vick's attorney, Billy Martin, to handle most of his legal affairs. He said he has retained Stan Brand, who represented Major League Baseball in connection with the congressional investigation into Major League Baseball's steroid policies, to handle issues pertaining to an investigation by the Senate Ethics committee.
The comments came in a question and answer session with Craig that his office released following his announcement he would resign his Senate seat effective September 30.

Watch Sen. Craig's resignation speech
Craig says pending issues, and assuring an orderly transition were some of the reasons he will not step down immediately.
Questions for and Answers From U.S. Senator Larry Craig released by his office Saturday:
Q: Why September 30?
A: Thousands of Idahoans come to me every year for assistance in resolving issues with federal agencies, like obtaining passports, resolving Social Security or pension problems, and I want to make sure as many of these are resolved as possible. What can't be resolved will be transferred to my successor in an orderly way. I want to make as smooth a transition as possible for Idaho.
Q: Will you return to Washington, D.C.? When?
A: That has not been determined.
Q: Will you continue to vote and attend hearings during this time?
A: See above.
Q: Who is your legal counsel?
A: Stan Brand with Brand Law Group has been retained to handle issues pertaining to the Senate Ethics Committee investigation. Billy Martin with Southerland, Asbil & Brennan has been retained to handle all other legal affairs.
Q: Have you filed papers in Minnesota to begin your legal defense?
A: You'll have to speak with Mr. Martin or Mr. Brand on any questions pertaining to legal affairs.
Q: Have you spoken with Governor Otter about a replacement?
A: No.
Q: Have you had any conversations with Lieutenant Governor Risch?
A: No.
- CNN Political Desk Editor Jamie Crawford