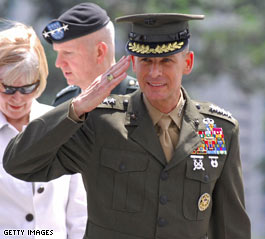 Gen. Peter Pace has about a month left as Chairman of the Joint Chiefs of Staff
(CNN) – Chairmen of the Joint Chiefs don't usually find themselves as warm-up acts, but that's the role General Peter Pace found himself in Monday during President Bush's surprise visit to Iraq.
The retiring chairman showed a far more animated side than the formal, serious one usually seen in Washington in full dress uniform. Wearing desert fatigues, General Pace held court before the troops while waiting for the president's belated appearance.
"This is a 3-act performance", Pace told the crowd while filling unexpected time. "I'm act one. Now I'm act two."
The general said he wanted to take questions and hear comments from the forces, reminding them, "I've only got 30 days left, so it's a free shot." To laughter, he said, "If I know the answer, I'll tell you. If I don't, I'll make something up. By the time you figure it out, I'll be gone."
Turning serious, he then said, "All kidding aside, if it's something I should know, by all means tell me. If you want to tell me something, I'm all ears."
Asked his plans after retiring next month, Pace told the troops, "I have a day job. I'm going to run to the finish line in 1 October because you deserve to have me still focused on my responsibilities. On 2 October, I'll start thinking about what I'll do next."
Pace said that while he may have some idea what he may want, "I do know any time I spend thinking about what happens next is time I'm taking away from you, and I'm not going to do that."
–CNN Political Desk Managing Editor Steve Brusk