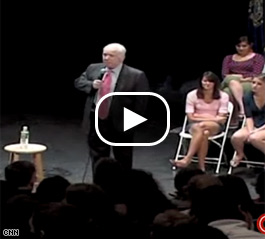 Watch Sen. John Mccain answer a high school student's question about his age in New Hampshire on Tuesday.
PORTSMOUTH, New Hampshire (CNN) – Sen. John McCain's visit to Concord High School proved to be more than your average guest speaker appearance Tuesday with the Republican presidential candidate giving and getting a dose of the campaign's trademark "straight talk."
During the question and answer session one student rose and asked a pointed question about McCain's age: "If elected, you'd be older than Ronald Reagan, making you the oldest president. Do you ever worry that like you might die in office or get Alzheimer's or some other disease that might affect your judgment?"
The Arizona senator chuckled slightly as the "oh my gods" filled the room. In a self-deprecating reference to his memory, McCain said his children have joked about their father "hiding his own Easter eggs," but quickly added, that he was a "24-7" worker and would out campaign any of his rivals.
McCain then ended the exchange in his quintessential style: "Thanks for the question, you little jerk … you're drafted."
Full story: High schoolers pitch hardballs at McCain
- CNN Senior Political Producer Sasha Johnson