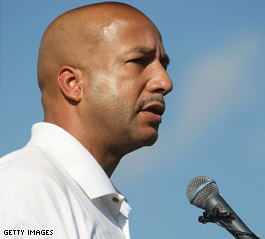 New Orleans Mayor Ray Nagin spoke recently at a memorial service on the second anniversary of Hurricane Katrina.
WASHINGTON (CNN) - New Orleans Mayor C. Ray Nagin, the controversial leader of the Crescent City during Hurricane Katrina, will not seek the governorship of Louisiana.
Nagin, who won re-election to lead New Orleans through its rebuilding efforts after the devastating hurricane, did not file the necessary paperwork to seek the state's highest office. The deadline to do so has passed.
Had Nagin decided to throw his hat in the ring, he would have faced Republican Rep. Bobby Jindal, whose congressional district includes parts of New Orleans, as well as several other candidates. Nagin, current Gov. Kathleen Babineaux Blanco and President Bush all were criticized for poorly preparing the city for the storm and then not acting quickly enough to help residents after it hit.
Nagin was a cable company executive before becoming mayor of New Orleans in 2002. He won re-election in 2006, beating Mitch Landrieu, the brother of current Louisiana Sen. Mary Landrieu.
- CNN Political Ticker Producer Xuan Thai