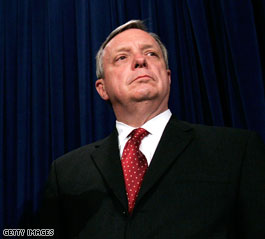 Sen. Dick Durbin, D-Illinois.
WASHINGTON (CNN) - Days before Gen. David Petraeus testifies before Congress on the progress of the troop "surge" in Iraq, the Senate's number two Democrat is accusing the administration of manipulating information in its highly anticipated Iraq report that will be released next week.
"By carefully manipulating the statistics, the Bush-Petraeus report will try to persuade us that violence in Iraq is decreasing and thus the surge is working," Sen. Dick Durbin of Illinois said at a Washington think tank.
Durbin, a war critic, said that for a long period of time he has exchanged e-mail with civilian employees who were gathering data for the report and writing draft portions of the findings.
"Some of them I correspond with almost on a daily basis. And when they sent a discouraging report about things that were happening in Baghdad, they were reminded by their superiors that's unacceptable; we need a positive report. They were sent back for editing changes. Now that's a fact," Durbin said.
Petraeus is expected to testify next week that the troop buildup has produced progress on the ground.
In recent days, congressional Democrats have engaged in a coordinated effort to minimize the impact of the testimony, which could undermine their ability to convince wavering Republicans to vote for troop withdrawals.
Also on Friday, Senate Majority Leader Harry Reid got personal, questioning Petraeus' credibility:
"He's made a number of statements over the years that have not proved to be factual," Reid said. "I have every belief that this good man, General Petraeus, will give us what he feels is the right thing to do in the report that is now not his report. It's President Bush's report."
"My guess is that it's an attempt to discredit the witness," a Senate Republican leadership aide responded to the Democrats' broadsides. "The problem is Petraeus' approval rating is about four times higher than the Democrat Congress."
The statistics that Durbin is questioning deal with the accounting of sectarian violence - which Petraeus is expected to report has gone down in recent months.
But in testimony before the Senate Armed Services Committee on Friday, David Walker, the head of the non-partisan Government Accountability Office, also raised questions about how those statistics were compiled. He said he is "not comfortable" with the methodology used to count the death toll from sectarian violence.
Specifically, he said he questions the fact that if a body is found with a gunshot wound in the front of the head it is classified as an ordinary crime but if the wound is in the back of the head it is considered sectarian violence.
Walker said he would "fully expect" such a methodology would reflect a reduction in sectarian violence.
He said those statistics are kept by the Multi-National Force-Iraq, which is commanded by Petraeus. Noting that the details of methodology are classified, he urged senators to push for the information be made public.
- CNN's Dana Bash and Ted Barrett