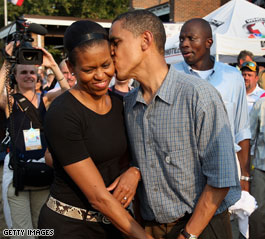 Barack and Michelle Obama at the Iowa fair last month.
WASHINGTON (CNN) - Americans historically like to know personal details about their presidential candidates, but the latest insight into Sen. Barack Obama from his wife Michelle may be a bit more insight than needed.
In an interview with Glamour Magazine, Mrs. Obama details her two girls' morning ritual, a time, she says, when her husband Barack is often "snore-y and stinky."
"We have this ritual in the morning," Michelle Obama told Glamour. "They come in my bed, and Dad isn't there — because he's too snore-y and stinky, they don't want to ever get into bed with him."
"But we cuddle up and we talk about everything from what is a period to the big topic of when we get a dog: what kind?" she added.
Michelle Obama often discusses more intimate details about her husband on the campaign trail - even her annoyances with the Illinois Democrat.
"There's the Barack Obama who lives in my house," she said when introducing her husband earlier this year. "That guy's not as impressive. He still has trouble ... putting his socks actually in the dirty clothes, and he still doesn't do a better job than our 5-year-old daughter Sasha at making his bed, so you'll have to forgive me if I'm a little stunned at this whole Barack Obama thing."
Though some have criticized her for expressing such gripes, Mrs. Obama defended the practice to Glamour.
"People have notions of what a wife's role should be in this process, and it's been a traditional one of blind adoration. My model is a little different—I think most real marriages are," she said.