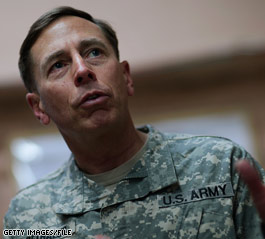 Petraeus is to deliver a report on the progress of the troop 'surge' in Iraq this week.
(CNN)–With the long awaited Iraq progress report set to be delivered this week to Congress by General David Petraeus, and Ambassador Ryan Crocker, the Sunday morning political talk shows were full of debate about what the report may ultimately say.
On Monday, the liberal advocacy group MoveOn.org, is set to publish an ad in the New York Times that claims Petraeus is not giving an objective, independent view of the situation on the ground. The ad says 'General Petraeus or General Betray us? Cooking the books for the White House."
On ABC's 'This Week,' moderator George Stephanopoulos, asked GOP presidential hopeful John McCain what he thought about the attacks on Petraeus' credibility. "I know this man, and many people know this general. He's not going to allow politicization of the dedication and service that not only he is providing, but the brave young men and women under his command."
"He served his country with honor and distinction," the Senator from Arizona said, "and if we have to sink to that level to besmirch the reputation of a very fine and wonderful American, then I lament the level of dialogue. I hope that my Democrat friends will not be guided by move.org."
Over on 'Fox News Sunday,' moderator Chris Wallace asked Senator Dianne Feinstein about recent attacks on Petraeus' credibility. "Well, I don't think General Petraeus has an independent view in that sense," the Democrat from California said. "General Petraeus is there to succeed. He may say the progress is uneven. He may say it's substantial."
"I don't know what he will say," Feinstein said. "You can be sure we'll listen to it. But I don't think he's an independent evaluator."
Petraeus, the top American military commander in Iraq, will deliver a progress report, written by the White House, to Congress this week. Ryan Crocker, the U.S. ambassador, will deliver his assessment on political progress there.
- CNN Political Desk Editor Jamie Crawford