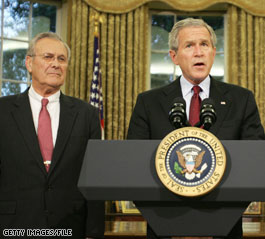 Bush announces Rumsfeld's resignation November 8, 2006, the day after the midterm elections.
WASHINGTON (CNN) – Donald Rumsfeld served as President Bush's Secretary of Defense for six years, but he told GQ magazine he doesn't miss his old boss and the two now rarely talk.
In an issue set to hit the newsstands on Sept. 25, Rumsfeld tells the magazine he still likes Bush but can't recall the last time he spoke with the president.
And asked directly if he misses the president, Rumsfeld told the Magazine, "Um, no."
But Rumsfeld offered Bush praise, and claimed that he is a victim of the media not giving him enough credit in a similar fashion that previous Republican presidents have had to endure.
"Just think, in my lifetime, the Republican presidential candidates: Dwight D. Eisenhower, considered to be a bumbler, bad syntax. Gerald Ford, the best athlete they had in decades, and they called him a stumblebum and demeaned him and made fun of him. Said he wasn't smart, which he was. He'd gone to Michigan, he'd gone to Yale Law School. I mean… And Ronald Reagan. You read his diaries now, and the man is remarkable - and yet he was dismissed as a movie actor and not very smart."
Rumseld added, "So, I mean the fact that President Bush is demeaned is no different than Eisenhower or Ford or Reagan. And the fact that people believe that to be the case is not a surprise when they're told it day in, day out, by the, uh, eastern media."
Rumsfeld was also frank about his relationship with former Secretary of State Colin Powell, with whom he repeatedly butted heads.
"No! We're not close, never were," he said of Powell when asked if he missed the former secretary of state.
Rumsfeld, who officially resigned the day before the 2006 midterm elections (a move that was not announced until the day after), also said he likely would have stayed on at the Pentagon if Republicans held control of Congress. (Related: Rumsfeld's resignation letter)
"It was very clear in my mind that if the Democrats won the House or the Senate or both, that it made sense for met to…that it would be best for the department if someone else was there," he said.
- CNN Ticker Producer Alexander Mooney