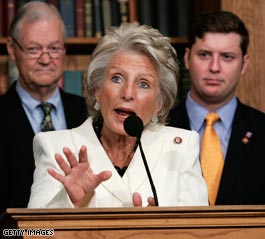 Democrat Jane Harman has often be outspoken on intelligence issues.
WASHINGTON (CNN) - A leading congressional Democrat on Wednesday accused the director of national intelligence of undermining the authority of his office by taking political positions.
Rep. Jane Harman, D-Calif., lashed out at DNI Mike McConnell for taking a political role in recent negotiations with Congress about updating the Foreign Intelligence Surveillance Act (FISA), the law that regulates foreign intelligence eavesdropping.
"He appeared to be taking orders from the White House, negotiating for the White House," said Harman. The role he played, "whether he intended it or not, appeared to be political," she said.
Congress rushed through a temporary fix of the FISA law before it adjourned in early August in an effort to fill a gap in foreign intelligence gathering that McConnell had warned was preventing the intelligence community from gathering information on suspected terrorists. Democrats accused McConnell of stepping back from an agreement he had made with them and instead supporting a Republican proposal favored by the Bush administration, which was voted into law.
Harman also criticized McConnell for divulging classified material in an interview with an El Paso, Texas, newspaper. In that interview, the DNI disclosed that 100 or so Americans had been targets of the intelligence community's surveillance program.
Harman said McConnell "to my amazement" selectively declassified information, something she said "he is not authorized to do ... by himself."
Finally, the California Democrat, who is considered to be one of the leading experts on intelligence matters in Congress, faulted McConnell for claiming in a congressional hearing earlier this week that the August FISA legislation contributed to the recent arrest of three suspected terrorists in Germany. Harman cited media reports that the three men had been under surveillance for at least 10 months.
"The way he presented that looked like, again, that he was being political." Harman ended her comments by saying, "Jane to Mike: please stop. You're undermining the authority of your office."
During a Senate Judiciary Committee hearing on Monday, McConnell indicated the FISA law played a role in the U.S. intelligence community providing information on the suspected terrorists to German authorities. Asked by a senator if the August FISA fix facilitated the intelligence gathering, McConnell responded, "Yes sir, it did."
But after the hearing, McConnell told CNN he was referring to the FISA law as a whole, not the one area that was changed by Congress last month.
The DNI's office declined to comment on Harman's accusations. McConnell is scheduled to testify about further FISA legislation at congressional hearings next week.
Harman also took exception to CIA Director Mike Hayden's comments last week that the CIA should be given space to fight the war on terrorism. The lawmaker is critical of CIA programs involving detentions, interrogations and secret prisons implemented by the Bush administration after 9/11 without congressional approval.
In a speech last Friday, Hayden said the agency needed to "leverage every inch of space given" to it, referring specifically to the detention, interrogation and rendition of suspected terrorists.
"I don't agree with Mike Hayden, a man I trust very much, that we should back off and let him do what he needs to do and trust him," said Harman.
She maintains the CIA should not be exempt from federal laws and wants to see the administration's controversial programs put under a "legal framework designed by Congress."
CIA spokesman George Little said that Hayden made clear in his remarks he "vigorously supports congressional oversight" and that "the agency operates within the legal boundaries set by the American people's elected representatives."
- CNN National Security Producer Pam Benson