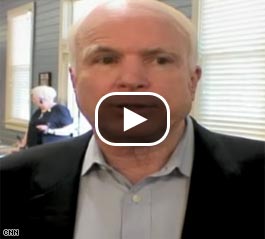 Watch CNN's Tom Foreman report on the question of Sen. John McCain's religious denomination.
LEXINGTON, South Carolina (CNN) — Republican presidential candidate John McCain told reporters at an American Legion Hall here Monday that he is a Christian, and that questions about his specific religious denomination are beside the point.
"There's been some talk about my religious persuasion," said the Arizona Senator, referring to a weekend report by the Associated Press that McCain said he was a Baptist although he has long identified himself as an Episcopalian.
"I was raised in the Episcopal Church and attended high school, it was a high school called Episcopal High School. I have attended North Phoenix Baptist Church for many years, and the most important thing is that I'm a Christian, and I don't have anything else to say about the issue," McCain said.
— CNN South Carolina Producer Peter Hamby