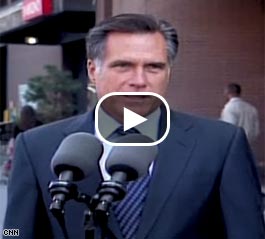 Watch Mitt Romney's response to Sen. Hillary Clinton's universal health care plan.
WASHINGTON (CNN) – Republican presidential candidate Mitt Romney blasted Sen. Hillary Clinton's healthcare plan Monday, calling it "bad medicine."
"You'll see that version 2.0 is not likely to have any more success than 1.0," said Romney, referring to Sen. Clinton's first attempt to reform the healthcare system in 1993. "'Hillary Care' continues to be bad medicine."
Romney, who implemented comprehensive healthcare reform during his term as governor of Massachusetts, said Clinton's plan relied too much on the federal government and not enough on states or the private market.
"In her plan, it's crafted by Washington; it should be crafted by the states. In her plan, we have government Washington managed health care. Instead, we should rely on the private markets to guide health care," Romney said during a press conference.
Like the plan passed in Massachusetts during Romney's time in office, Clinton's plan would require individuals to have some form of health care insurance.
But Romney emphatically said the plan implement in Massachusetts was "entirely different" from Sen. Clinton's.
"Her plan is crafted by Washington. Mine is crafted by individual states," Romney explained. "Her plan has government insurance. Mine has private insurance. Her plan raises taxes. Mine does not raise tax."
Related: Clinton unveils mandatory health care insurance plan
- CNN Ticker Producer Xuan Thai