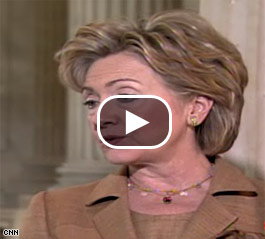 Clinton told CNN Thursday she doesn't think the Hsu matter will negatively affect her campaign.
NEW YORK (CNN) - Federal prosecutors have charged Democratic fund-raiser Norman Hsu with breaking campaign finance laws and creating a $60 million Ponzi scheme.
Federal prosecutors announced the criminal complaint Thursday at a press conference in Manhattan.
Hsu has raised money for several Democratic candidates, but most substantially for Sen. Hillary Clinton's, D-New York, presidential bid. Clinton's campaign has said it will return the $850,000 Hsu raised to the individual contributors.
Clinton told CNN's Jessica Yellin Thursday she is not worried Hsu's charge will have a negative affect on her campaign.
"Unfortunately none of us caught the problem that were there," she said. "This happened to a lot of campaigns, a lot of investors who made investments that unfortunately don't look like they were treated appropriately. The system of justice will work its course, and I think that's appropriate."