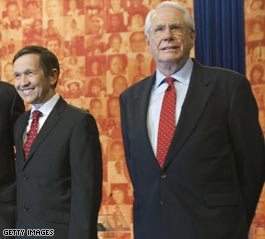 Kucinich and Gravel were not invited to two big Iowa events this week.

DES MOINES, Iowa (CNN) - For the second time in one week, Democratic presidential candidates Rep. Dennis Kucinich, D-Ohio, and former Alaska Sen. Mike Gravel will be absent from an Iowa stage on which the majority of their opponents will be standing.
Thursday night marks the Divided We Fail/AARP/Iowa Public Television presidential candidate forum on health and financial security. It also marks the second time this week that an event or organization has not exactly welcomed these two candidates with open arms.
The first was Sunday– Iowa Sen. Tom Harkin's annual Steak Fry.
Spokespeople from both Sunday's and Thursday's events say the two candidates would have been allowed to schmooze and hold hands with the rest of the pack had they met the criteria–a stronger physical presence in Iowa.
Mark Fetterhoff, a spokesperson with the AARP Divided We Fail initiative, said every candidate was invited, but there were two stipulations for Thursday's forum that neither candidate met by the deadline: a physical campaign office in Iowa and at least one paid campaign staff representative performing full-time duties in the stateon behalf of the candidate since at least August 1, 2007.
August 1, 2007. The letter informing all candidates of those criteria was sent out, according to Fetterhoff, on July 2. This means they had a month to meet them.
Gravel spokesperson Alex Colvin said they do have offices and staff in Iowa, however, they're all unpaid and work out of their homes.
"It shows a complete disregard for grassroots organizing," Colvin said.
Kucinich spokesperson Andy Juniewicz contends that their campaign does, in fact, have a paid staffer in Iowa–a state coordinator. The drawback? He works out of his house, as well.
"So, I mean, is that hairsplitting?" Juniewicz said. "Our campaign is not like a lot of other campaigns. We have resources all over the country who focus their attention on Iowa."
Both campaigns said they made an effort to be included, but ultimately, neither made the necessary additions to their Iowa organization to be included.
However, in a press release Wednesday, Kucinich seems to give the impression that he wouldn't be too keen on being there anyway. In a statement, Kucinich accuses AARP of having "a $4 billion, vested interest in preserving the role of private, for-profit insurance companies." He claims that AARP only invited the candidates whose health plans "preserve and promote the interests of for-profit insurance and pharmaceutical companies."
Kucinich cites that as the reason it was made so difficult for him to attend.
"It's clear that they didn't want me upsetting their multi-billion dollar applecart."
It's worth noting that Kucinich was invited to - and was allowed to attend - an AARP-sponsored forum when he ran for the Democratic nomination in 2004 because, according to Fetterhoff, he met the qualifications that year.
- CNN Iowa Producer Chris Welch