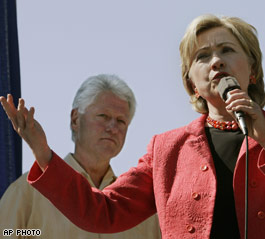 How is Bill Clinton adjusting to being No. 2?
WASHINGTON (CNN) - Former President Bill Clinton says it's not going to be easy to adjust to a new role in the White House if his wife, New York Sen. Hillary Clinton, wins the presidency.
"I may slit my throat," the former president joked on Thursday night's The Daily Show when asked about the prospect of returning to the White House as anyone other than the President of the United States.
But Clinton quickly got back to being supportive saying, "My basic job will be to support her if she wins. I'll go and do what is most needed, and what is best for the country, and let her make that call."
The former president also praised the other Democratic presidential candidates.
"I like this field," he said. "I love having a field, as a Democrat, where I don't have to be against anybody."
- CNN Ticker Producer Alexander Mooney