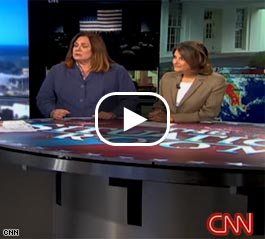 Watch the Best Political Team on TV analyze the recent more nasty, more personal attacks on the 2008 presidential campaign trail.
WASHINGTON (CNN) - With less than four months until primary voters begin to weigh in, it's beginning to get nasty out on the campaign trail.
As presidential candidates try to mobilize supporters and distance themselves from the rest of the pack, they, or their campaigns, are increasingly leveling attacks on one another – and it's getting personal.
Just last night, former Iowa Gov. Tom Vilsack, a top surrogate for Sen. Hillary Clinton, slammed former New York City Mayor Rudy Giuliani over his well documented marriage history and reportedly poor relationship with his children.
Also yesterday, Elizabeth Edwards, wife of former Sen. John Edwards, accused Clinton of "insider cronyism" and trading political access for campaign donations.
Are all these attacks too much, too soon? Or are they necessary given the crowded presidential fields in both parties and the need for candidates to differentiate themselves from one another?
What do you think? Weigh in below.