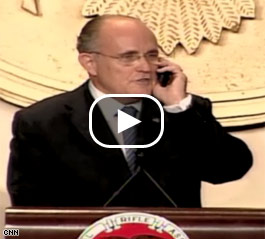 Watch Giuliani take a call from his wife during a speech to the NRA. Was it real or staged? You decide.
WASHINGTON (CNN) - When former New York City Mayor Rudy Giuliani gets a call from his wife Judith he takes it, even if it happens in the middle of a speech to hundreds of people.
The New York Republican presidential hopeful was delivering a speech to the National Rifle Association Friday in Washington when his cell phone began to ring. He was in the middle of discussing the importance of the 2nd amendment.
"Let's see now, this is my wife calling, I think," he said as he answered the phone.
"Hello dear, I am talking to the members of the NRA right now, would you like to say hello?," he asked, as the crowd sat mostly silent.
She apparently did not.
"I love you and I will give you a call when I am finished, OK," he said, trying to wrap up the call. "Have a safe trip, talk to you later dear I love you."
The crowd quietly applauded after he ended the call and Giuliani joked, "It's a lot better that way. This is one of the great blessings of the modern age, to be always available - maybe it isn't. I am not sure."
Was the call Friday real or staged? Giuliani received a similar call during a June 21 rally in Hialeah, Florida – telling the crowd it was his wife on the phone. The clip of that moment is posted on YouTube, and being noted by other campaigns.
The Giuliani campaign says the call was legitimate.
UPDATE: Wayne LaPierre, the executive vice president of the NRA, told CNN he thought the moment was "light hearted" and the crowd was "amused by it."
"I think we've all taken a lot of phone calls from our wives," LaPierre added.
Asked if he would take a call from his wife during a speech, Lapierre said, "I don't know that I would have it (the phone) in my pocket on."
- CNN's Alexander Mooney and Steve Brusk