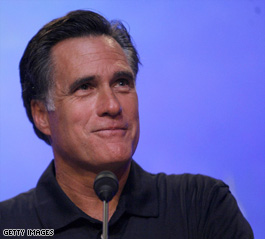 Romney criticizes his fellow Republicans in a new ad.
WASHINGTON (CNN) – Former Massachusetts Gov. Mitt Romney criticizes his fellow Republicans for failing to control spending, neglecting to take action on illegal immigration and the party's own ethical lapses, in a new television ad set to air Sunday in the Washington, D.C. market.
Romney's new 30-second ad "Change Begins With Us" will air during NBC's "Meet The Press," and will be complemented by a full page "open letter" print ad set to run Sunday in the New Hampshire Union Leader and in Monday's edition of Roll Call, an influential Capitol Hill newspaper.
"If we're going to change Washington, Republicans have to put our own house in order," warns Romney, as he walks towards the camera. "We can't be like Democrats – a party of big spending. We can't pretend our borders are secure from illegal immigration. We can't have ethical standards that are a punch line for Jay Leno."
Romney adds, "When Republicans act like Democrats, America loses. It's time for Republicans to start acting like Republicans. It's time for a change and change begins with us."
Romney is seeking the GOP presidential nomination.
The television ad is currently running in the key early primary states of Iowa, New Hampshire and South Carolina. The ad is designed to reach conservative GOP base voters, who are frustrated with how Republicans are operating in Washington.
Evan Tracey of TNS Media Intelligence/CMAG - CNN's consultant on television advertising - said Romney's decision to buy time on "Meet The Press" was a calculated move to advance his "change" theme with opinion leaders and activists.
Kevin Madden, Romney's campaign spokesman, said the former governor's blunt message of the need for change within his own party is being well received by Republicans from across the country.
"They agree that it is a powerful message that serves as a call to Republicans to restore the American public's faith in our party as one of fiscal conservatism, security and high ethical standards," Madden said. "When we do that as a party, Gov. Romney believes we can lead a movement to change Washington."
- CNN Political Editor Mark Preston