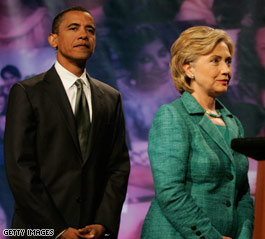 Obama and Clinton both announced high-profile endorsements Monday.
WASHINGTON (CNN) - I see your union endorsement and raise you a U.S. senator.
Two of the leading candidates for the Democratic presidential nomination
will each announce a union endorsement Monday and one will receive the backing of a senior member of Congress. And there is likely to be at least one more endorsement unveiled Monday.
Sen. Hillary Clinton, D-New York, announced the backing of the International Union of Bricklayers and Allied Craftworkers, an organization that boasts a membership of 100,000 "skilled masonry-trowel trades craftworkers."
Later in the day, Sen. Evan Bayh, D-Indiana, will also endorse Clinton for president, a source close to Clinton tells CNN.
The New York Democrat unveiled her union endorsement soon after news leaked that Sen. Barack Obama, D-Illinois, would head to Clinton's home turf to unveil his own union endorsement. The Correction Officers' Benevolent
Association, a New York City union that represents 9,000 jail workers., will announce they are backing him at a late morning news conference, a source close to Obama tells CNN.
An Obama official tells CNN that the campaign will unveil another endorsement prior to the New York announcement. A media call has been scheduled for 10 a.m. ET.
While endorsements are often seen as a sign of a candidate's strength within the political class, the support of unions is particularly important because these organizations often provide a motivated group of ground troops to work on behalf of the candidate.
- CNN Political Editor Mark Preston