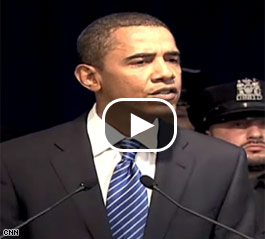 Watch Obama discuss the Iranian president's visit Monday.
NEW YORK (CNN) - Sen. Barack Obama stood his ground Monday on his controversial remarks earlier this year that he would meet with Iran President Mahmoud Ahmadinejad.
"We should never negotiate out of fear but we should never fear to negotiate," Obama said, quoting John F. Kennedy.
"Meeting with somebody is not tantamount to agreeing with them," he later added when taking questions from reporters after announcing an endorsement by the New York City Correctional Officers Benevolent Association in Manhattan.
Obama's toughest Democratic primary competition in the race for the White House, Sen. Hillary Clinton, criticized Obama earlier this year for saying he would meet with Ahmadinejad during a debate, called his comments irresponsible and attacked the Illinois senator for being inexperienced.
Obama also said he would not have invited Ahmadinejad to speak as Columbia University has done.
Ahmadinejad, who is in New York City to visit the United Nations, was invited to speak Monday afternoon at the university.
But Obama said U.S. schools have the freedom to make such decisions.
The NYC-COBA, the largest municipal prison union in the United States, represents 9,000 correction workers in the city.
- CNN's Katy Byron