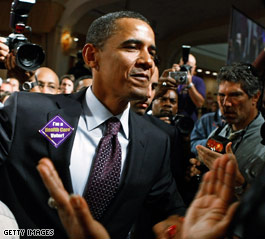 Obama
WASHINGTON (CNN) - Sen. Barack Obama, D-Illinois, will be endorsed for president Monday by the Correction Officers' Benevolent Association, a New York City union that represents 9,000 jail workers., a source close to Obama tells CNN.
Obama will accept the endorsement at a late morning news conference in New York City, the home turf of one of his chief rivals for his party's presidential nomination, Sen. Hillary Clinton, D-New York.
The union proclaims on its Web site that it's job is to "patrol the toughest precincts in New York ... the City jails."
Later in the day, Sen. Evan Bayh, D-Indiana, will endorse Clinton for president, a source close to Clinton tells CNN.
- CNN Political Editor Mark Preston