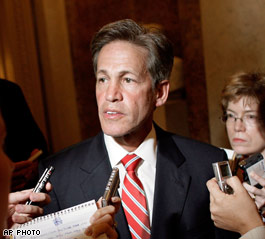 Sen. Norm Coleman, R-Minnesota
MINNEAPOLIS, Minnesota (CNN) - The controversy over the MoveOn.org ad criticizing General David Petraeus is now taking center stage in a high profile Senate race in Minnesota.
Republican Sen. Norm Coleman ran a full page ad Tuesday in the Minneapolis Star-Tribune, blasting Democratic challenger Al Franken for raising money for MoveOn.org. The ad — headlined "Ridiculous" — criticizes the Franken campaign's response to last week's Senate vote criticizing the group's ad.
The Coleman ad says, "What is really ridiculous is that Al Franken helped raise money for MoveOn.org to pay for ads like the one they did smearing General Petraeus and undermining our troops in the field."
Replying to the ad, a Franken spokesperson tells CNN, "Minnesotans want Norm Coleman to vote to end the war and bring the troops home. He won't stand up to this president, so instead he's taken out an ad criticizing Al for criticizing a Senate resolution that criticized MoveOn.org for taking out an ad criticizing General Petraeus. Ridiculous is exactly the right word."
Franken and attorney Mike Ciresi are competing for the Democratic nomination to run against Coleman next fall.
- CNN's Steve Brusk and Matt Hoye