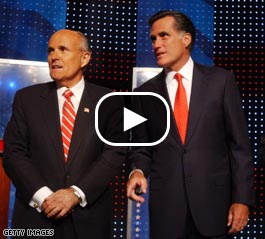 Watch Bill Schneider's report about CNN's new poll on the New Hampshire GOP presidential race.
HANOVER, New Hampshire (CNN) - It's a dead heat in New Hampshire, according to our new poll of likely New Hampshire Republican primary voters.
Mitt Romney's lead in the battle for the GOP presidential nomination in the all important Granite State has evaporated, according to the results of a CNN/WMUR poll conducted by the University of New Hampshire.
The survey, released Wednesday, shows the former Massachusetts Governor drawing support from 25 percent of Republican primary voters to 24 percent for former New York City Mayor Rudy Giuliani.
That statistically-insignificant, 1 point margin is a major change from CNN/WMUR's last New Hampshire poll, taken in July, when Romney held a comfortable 14 point lead over Giuliani.
- CNN Deputy Political Director Paul Steinhauser