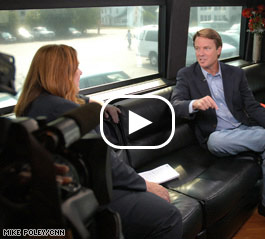 Watch CNN's Candy Crowley interview John Edwards on CNN's Election Express.
ONBOARD THE CNN ELECTION EXPRESS, New Hampshire (CNN) – Former Sen. John Edwards will accept public financing for his presidential campaign, and he challenged New York Sen. Hillary Clinton and Illinois Sen. Barack Obama to follow his lead.
"This is not about a money calculation," Edwards told CNN Senior Political Correspondent Candy Crowley Thursday on his way to an event in Durham. "This is about taking a stand, a principled stand, and I believe in public financing."
Edwards is battling Clinton, Obama and a handful of other Democrats contending for their party's presidential nomination.
With the third quarter fundraising deadline just days away, Edwards emphasized he did not arrive at this decision because his Federal Election Commission report will show a drop-off in contributions from donors. (Check out the CNN Election Center to see where the candidates stand in the money race)