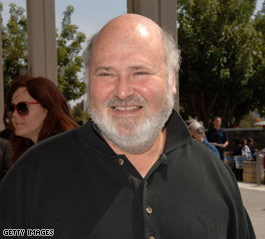 Reiner is lending his star-power to Hillary Clinton.
WASHINGTON (CNN) - As a movie director, he put Michael Douglas in the White House in the 1995 hit movie, "The American President." But as a real life political activist, Hollywood mogul Rob Reiner has his sights set on making sure it's Sen. Hillary Clinton who inhabits Washington's top address come January 2009.
According to the Los Angeles Times and Variety, the noted director, producer and actor has decided to throw his star power behind the New York Democrat's White House bid and will throw a star-studded fundraiser for her in October.
"Every one of the Democratic candidates is strong, but Hillary is head and shoulders above the rest," he told the Times.
Reiner did not come to his decision lightly, Variety reports. He met with every other candidate running for the Democratic nomination except for former Alaska Sen. Mike Gravel.
"Based on the experience I have had in politics, and I have been on the front lines in a lot of these fights, I came around to realizing that we do need the most experienced and most qualified person to run the country," he told Variety.
Clinton's campaign has not returned CNN's request for comment on the endorsement.
Reiner is one of Hollywood's most politically active figures. The man behind such classic films as "When Harry Met Sally" and "A Few Good Men" was an early supporter of Howard Dean's 2004 presidential bid. He also heavily campaigned for Sen. John Kerry that year when the Massachusetts Democrat won his party's nomination.
But Reiner told Variety his top choice for the White House would be former Vice President Al Gore.
"A long, long time ago, I thought he might get in, but he made it very clear he wasn't going to be a candidate, so I took him at his word and then went through the process of saying, 'Who is the most qualified?' The answer was Hillary," he said.
Clinton and rival Barack Obama have been locked in a battle for Hollywood supporters and their dollars since both candidates announced their presidential ambitions early this year.
- CNN Ticker Producer Alexander Mooney