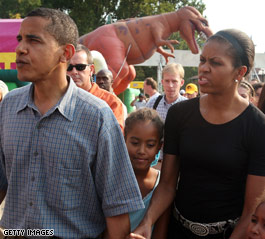 Barack and Michelle Obama in Iowa last month.
Michelle Obama: 'If Barack doesn't win Iowa, it is just a dream'
DES MOINES, Iowa (CNN) - Michelle Obama told a crowd in eastern Iowa Wednesday night that if her husband, Sen. Barack Obama, D-Illinois, doesn't place first in the Hawkeye State then "it is just a dream."
"Iowa will make the difference," Mrs. Obama said. "If Barack doesn't win Iowa, it is just a dream. If we win Iowa, then we can move to the world as it should be."
Bill Burton, an Obama spokesman, told CNN, "Let's not make too much of this. She was just firing up the troops in Iowa, which she is excellent at doing."
"Everybody wants to do well in Iowa," Burton continued, "but the fact is we have a large and growing grassroots organization in all of the early primary states and are beginning to build strong organizations in the February 5th states."
Polls among the top three Democrats in Iowa have shown a tight race. A recent Los Angeles Times/Bloomberg poll had Clinton at 28 percent, Edwards at 23 percent, and Obama at 19 percent. The poll of 462 likely caucus-goers had a margin of error of plus or minus 5 percent.
- CNN's Peter Hamby, Candy Crowley, and Chris Welch contributed to this report