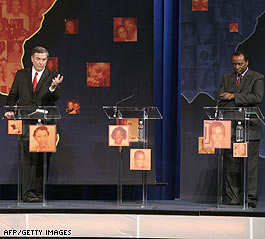 One of the empty podiums on stage Thursday night in Baltimore.
BALTIMORE, Maryland (CNN) - There were ten podiums on the stage, but only six candidates showed up.
Former Massachusetts Governor Mitt Romney, former New York City Mayor Rudy Giuliani, former Tennessee Senator Fred Thompson, and Sen. John McCain of Arizona, all said they had scheduling conflicts and skipped Thursday night's PBS All American Presidential Forum on minority issues. The Republican candidates who participated in the debate blasted their rivals for their absence.
"Frankly, I'm embarrassed," former Arkansas Governor Mike Huckabee said. "I'm embarrassed for our party and I'm embarrassed for those who did not come, because there's long been a divide in this country, and it doesn't get better when we don't show up."
Sen. Sam Brownback, R-Kansas, said it hurts the Republican Party when candidates choose not to participate in debates.
"I want to say just at the outset, I apologize for the candidates that aren't here," Brownback said. "I think this is a disgrace that they're not here."
But moderator Tom Joyner made jokes, at their expense.
"And let me take a moment right here and now to say hello to those of you viewing from home," Joyner said. "Mayor Rudy Giuliani. Senator John McCain. Governor Mitt Romney. And Senator Fred Thompson. Well, you know, I had to call them out."
Related: Not up for debate
Related: Commentary: Why is the GOP scared of black voters?
- CNN Associate Producer Lauren Kornreich