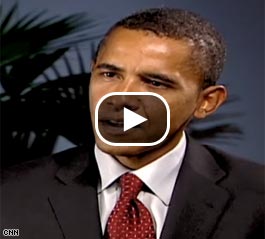 Watch Sen. Obama discuss the black vote with CNN Contributor Roland Martin.
WASHINGTON (CNN) - Sen. Barack Obama, D-Illinois, told CNN in an interview Friday that the fact he is viewed as a legitimate presidential candidate is testament to the progress America has made in regards to race relations.
Denying that progress would be an insult to "dishonor the memories of all those who fought for our civil rights throughout the generations," said Obama, the only African-American candidate running for the Democratic nomination.
"My belief is that we have changed sufficiently in this country that it is possible for a large numbers of whites to vote for an African-American candidate," Obama told CNN contributor Roland Martin. "If I did not believe that, I would not be running.
"I just want to point out that all those other candidates are taking me awfully seriously, and if they didn't think I could get white votes then they wouldn't be worrying about my campaign as much as they are," he added.
Full story: Obama: Candicacy a sign of racial progress
More video: Obama on Ahmadinejad
- CNN's Silvio Carrillio and Scott Anderson