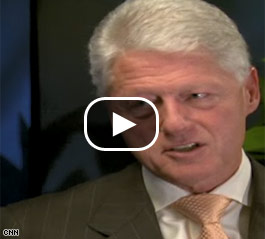 Watch Clinton's comments in an interview with CNN's Anderson Cooper.
WASHINGTON (CNN) - The Republican National Committee accused former President Bill Clinton Friday of engaging in "political payback," after he condemned Republicans earlier this week for criticizing MoveOn.org's pointed attack on Gen. David Petraeus.
"Why are the Clintons so invested in defending MoveOn.org?" RNC Chairman Mike Duncan asks in an e-mail fundraising solicitation "Well, remember what MoveOn.org's original purpose was? It was founded to attack any Republican who dared stand against the Clinton machine during the former President's impeachment and trial in the Senate for perjury and obstruction of justice."
"Not many people, even Democrats, dared to defend MoveOn.org in the wake of its attack on General Petraeus," Duncan added. "But if Bill and Hillary Clinton understand anything, it's political payback."
In an interview with CNN's Anderson Cooper Wednesday, the former president said Republicans who condemned MoveOn.org for their recent ad in The New York Times attacking Petraeus are "disingenuous." He also highlighted a string of past questionable campaign commercials targeting Democrats, and suggested Republicans are acting hypocritically.
"These are the people that ran a television ad in Georgia with [former Sen.] Max Cleland — who lost half his body in Vietnam — in the same ad with Osama bin Laden and Saddam Hussein," Clinton said. "That's what the Republicans did. And the person that rode to the Senate on that ad was there voting to condemn the Democrats over the Petraeus ad.
"I mean, these are the people that funded the Swift Boat Veterans for Truth. And the president appointed one of the principal founders of the Swift Boat ads to be an ambassador," he continued. "But they're really upset about Petraeus. But it was okay to question [Massachusetts Sen.] John Kerry's patriotism on a blatantly dishonest play that had dishonest claims by people that didn't know what they were talking about."