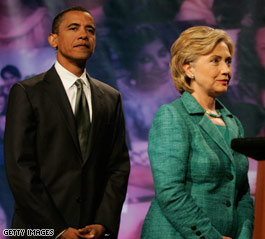 Sens. Obama and Clinton will raise comparable amounts during the third quarter of this year.
WASHINGTON (CNN) - Fundraising dropped off dramatically for the two leading contenders for the Democratic presidential nomination, but Sen. Hillary Clinton and Sen. Barack Obama will still report raising in the neighborhood of $20 million each over this three month time period, sources close to both candidates tell CNN.
Clinton will show she has pulled in between $17-$20 million, while Obama will report he raised between $18-$19 million. Fundraising is historically slow in the third quarter, which covers the final two months of summer and the first month of fall. In the second quarter, Obama shattered fundraising records by reporting that he raised $32.5 million, $31 million of which he could use in his bid for the Democratic nomination. Clinton raised $27 million during this same time period, and all but $6 million of it could be used in the primary.
There are still three days remaining for candidates to raise money for this fundraising period.
On the Republican side, Arizona Sen. John McCain is expected to show he raised more than $5 million this quarter, but a McCain advisor noted that his recent poll numbers in New Hampshire and a busy fundraising schedule next month shows that they "have some life." Sources close to former New York City Mayor Rudy Giuliani suggest that he will lead the GOP pack in fundraising this quarter, but would not reveal their fundraising totals.
- CNN National Correspondent John King