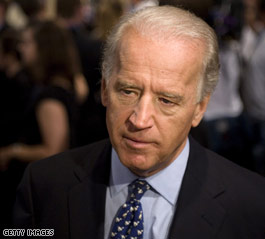 Biden said Al Gore and John Kerry failed to communicate their national security credentials.
ROCK HILL, South Carolina (CNN) - Sen. Joe Biden, touting his experience on the Senate Foreign Relations Committee during a campaign stop here, said that former Vice President Al Gore and Sen. John Kerry lost the 2000 and 2004 elections because they failed to convince voters they had the experience to protect Americans.
"Why did we lose?," Biden asked a crowd of about 50 people at the office of the York County Democratic Party. "We had good, decent, honorable men running [in 2000 and 2004]. But anybody who thinks we're going to elect a president who cannot lay down unimpeachable credentials on national security, who cannot demonstrate by his or her record or character that they have the strength and vision to protect America as well as ending this war, I think we're making a mistake again."
Biden said that most Americans agree with Democrats on domestic issues, but that President Bush did a better job in 2004 of winning over voters on national security issues.
"What he [Bush] was able to communicate wrongly, and what my candidate and your candidate [Kerry] was unable to communicate unjustly, was that he would keep America safe," Biden said.
He told the crowd he would trounce the Republican nominee in a national security debate.
"I can hardly wait to debate Rudy Giuliani," he said to cheers. "I can hardly wait to debate Mitt Romney or whomever they choose on matters relating to national security and homeland security."
Biden, still in single digits in national polls, also took a thinly veiled swipe at Democratic frontrunner Hillary Clinton, suggesting that he is the only Democrat who can appeal to voters in red states. He said a viable Democratic candidate must be able to win in states that went red in 2000 and 2004, particularly in the South.
"I truly believe, and I predict to you, electability is going to become a major, major, major factor at the end of the day when South Carolinians and Iowans and folks in New Hampshire go to those polls or caucuses to cast their vote."
- CNN South Carolina Producer Peter Hamby