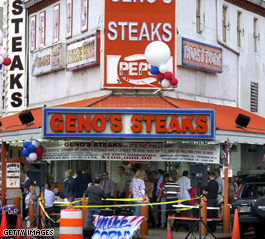 Giuliani plans a stop at the famous Geno's steaks later Monday.
WASHINGTON (CNN) - It's almost a necessity for any presidential candidate who swings through Philadelphia - making a stop at one of the city's famous cheesesteak shops.
But the landmark Philly restaurant former New York City Mayor Rudy Giuliani plans to stop at later Monday is also famous for another reason: its controversial 'Please speak English' sign.
Joe Vento, the owner of Geno's Steaks, sparked controversy last year when he put up a sign at his store proclaiming, "This is America. When Ordering Please Speak English."
Rachel Lawton, the executive director of the city's Human Relations Commission (HRC), blasted the sign in June 2006, saying it amounts to discrimination against those who cannot speak English. A hearing on the sign was scheduled last Wednesday but was postponed because the city wanted more time to review Vento's motion to dismiss the case, according to the Philadelphia Evening Bulletin.
Giuliani, a Republican presidential frontrunner, has taken a hard stance on illegal immigration, formally pledging last August to solve the problem if elected president.
According to his Web site, Giuliani also proposes that all "immigrants who want to become citizens must truly read, write, and speak English and learn American civics."
- CNN Ticker Producer Alexander Mooney